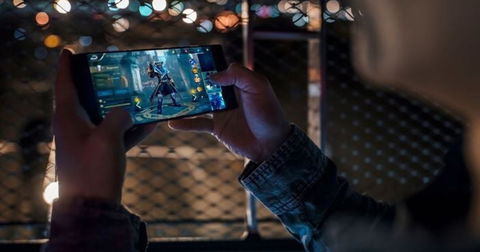 Solo podrás disfrutar al máximo estos 100 juegos si tienes un Razer Phone
Damián García
Juegos
Compartir
Como si se hubieran puesto de acuerdo -o no tan de acuerdo-, parece que hoy es el día de las novedades en un mercado gaming que esta misma tarde recibía al Xiaomi Black Shark Helo como la segunda iteración de los móviles para jugar del fabricante chino, que ha querido saltar a competir lo más rápido posible con un Razer Phone 2 que se presentaba hace tan sólo 12 días con nuevo diseño en cristal y LEDs de colores.
No se ha dejado intimidar Razer, que tiene muy buenos argumentos con su Razer Phone 2 y la tecnología UltraMotion, gracias a la única pantalla de 120Hz que encontraremos en todos estos móviles gaming que hemos conocido hasta la fecha. Un panel fabricado por Sharp y que doblando las tasas de refresco de todos los demás ha permitido a los estadounidenses sacar pecho en el día de Black Shark...
No en vano, los chicos de Razer aprovecharon hoy para actualizar la lista de juegos compatibles con la pantalla IGZO de 120Hz de sus Razer Phone, una colección de títulos mayúscula que supera ya las 100 entradas y cuenta con algunos de los juegos más descargados de la plataforma Android.
Razer Phone, todos los juegos compatibles con su panel de 120Hz
Como siempre, es la propia Razer la que mantiena actualizada la lista oficial, que está publicada en su página de soporte ordenada por categorías. Sin embargo, hemos querido traérosla aquí para que podáis consultar la enorme cantidad de títulos que Razer ha conseguido ya sumar a la causa de su tecnología UltraMotion y de la pantalla de 120Hz de sus smarpthones:
Fighting

Tekken Mobile
Injustice
Injustice 2
Mortal Kombat X
Marvel Contest of Champions
Shadow Fight 3
SkullGirls
DBZ Legends

Racing

Gear.Club
Real Racing 3
Hill Climb Racing 2
Need for Speed No Limits
Alto's Odyssey
Trials Frontier

RPG/MMORPG

Battlejack: Blackjack RPG
Evoland
FINAL FANTASY BRAVE EXVIUS
Final Fantasy XV: Personal Edition
Fire Emblem Heroes
Lineage 2: Revolution
MARVEL Future Fight
Middle Earth: Shadow of War
Old School Runescape
Runescape
Space Rangers: Legacy
Vendetta Online
Summoners War: Sky Arena
Soul Seeker
Wonder Tactics
Oceanhorn
Marvel Strike Force
Mini Dayz
Darkness Rises
Evoland 2
Hungry Dragon
Hungry Shark

Arcade

Pac-Man
Pac-Man Pop!
RC Soccer
Super Samurai Rampage
Chicken Jump
Zen Pinball
CATS: Crash Arena
Turbo Stars
Super Mario Run
Subway Surfers
Sonic Forces: Speed Battle
Cooking Craze - A Fast & Fun Restaurant Chef Game
BUST-A-MOVE JOURNEY
Space Invaders Infinity Gene
RAYSTORM
DARIUSBURST -SP-

MOBA
FPS

Shadowgun Legends
Hitman Sniper
RULES OF SURVIVAL
Shadowgun Legends
UNKILLED
Arma Mobile Ops
Dead Trigger 2
ARK: Mobile

RTS

Titanfall Assault
Warhammer 40k: Freeblade
Warfair
World of Tanks: Blitz

Action-Adventure

#KillAllZombies
Alto's Adventure
Bleach Brave Souls
Bug Butcher
Caterzillar
Don't Starve
Don't Starve: Shipwrecked
Far Tin Bandits
Tacticool

Sandbox
Other

Armajet
Boggle With Friends: Word Game
Card Thief
Chameleon Run
The Simpsons: Tapped Out

Puzzle/Strategy

Star Vikings
Puzzle Quest 2
Mini Metro
Hitman Go
Lara Croft Go
Deus Ex Go
Flippy Knife
Dragon Ball Z Dokkan Battle
South Park Phone Destroyer
Ballz
Heart Star
I Love Hue
Groove Coaster 2
Onirim
Plague, Inc.
Plants vs. Zombies 2
Shooting Stars!
Super Mario Run
Matchville
h3h3 Ball Rider

Sports

Big Shot Boxing
Golf Clash
Golf Star
MLB 9 Innings 17
OK Golf
Pumped 3
RC Soccer

Rythym
Location-based
Apps
Una lista sin duda variopinta que y coloca a Razer, seguramente, en la 'pole position' de los teléfonos para jugar por encima de los Nubia Red Magic o del Black Shark Helo que conocíamos hoy mismo. ¡Veremos que da de si el Huawei Mate 20X con su enorme pantalla y sus enormes posibilidades!
En Andro4all | Cada vez son más los juegos compatibles con la pantalla de 120Hz del Razer Phone
Más información | Razer
Temas relacionados: Juegos
Compartir
Síguenos en Instagram
@andro4allcom
Únete a nuestro canal de Telegram
@Andro4all
Síguenos en Facebook
andro4all