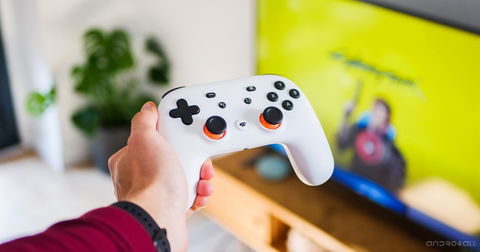 Todos los juegos disponibles en Google Stadia: lista completa y actualizada (enero 2022)
Christian Collado
Google Stadia
Compartir
La lista completa y actualizada de juegos en Stadia. Este es el catálogo de títulos disponibles y juegos gratis disponibles con Stadia Pro.
Google Stadia, la plataforma de streaming de juegos de Google, ya lleva más de un año con las puertas abiertas, ofreciendo un gran catálogo de juegos a sus suscriptores de los países donde Stadia está disponible, incluyendo a aquellos del plan gratuito, "Stadia Base".
Y como no puede ser de otro modo, el catálogo de juegos de Stadia crece mes a mes con la llegada de nuevos títulos que van haciendo realidad la promesa de Google de llevar a su plataforma los mejores juegos del mercado.
Actualmente, en pleno año 2021, Stadia ya cuenta con cientos de juegos diferentes a los que sus suscriptores pueden jugar. En este artículo, listamos todos los títulos disponibles en la plataforma.
Stadia se tambalea: Google cierra sus estudios internos y nos explica su nuevo enfoque comercial
Lista completa de juegos disponibles en Stadia
Recopilamos absolutamente todos los juegos disponibles en Google Stadia. En negrita puedes ver los últimos juegos añadidos a la plataforma, en este caso en enero de 2022.
A Place for the Unwilling
Ary and the Secret of Seasons
Assassin's Creed Origins
Assassin's Creed Syndicate
Assassin's Creed Unity
Assassin's Creed Odyssey
Assassin's Creed Odyssey Stadia Ultimate Edition
Assassin's Creed Valhalla
Attack on Titan 2: Final Battle
Baldur's Gate 3
Bloodstained: Ritual of the Night
Blue Fire
Borderlands 3
Borderlands 3 Deluxe Edition
Borderlands 3 Super Deluxe Edition
Cake Bash
Celeste
Cthulhu Saves Christmas
Crayta
Crayta Premium Edition
Crayta Deluxe Edition
Chronos: Before The Ashes
The Crew 2
The Crew 2 Deluxe Edition
The Crew 2 Gold Edition
The Crew 2 Season Pass
Control: Ultimate Edition
Cyberpunk 2077
Darksiders Genesis
Dead by Daylight
Destroy All Humans
Dragon Ball Xenoverse 2
Dragon Quest XI S
Destiny 2
Destiny 2: The Collection
Destiny 2: Beyond Light
Doom
Doom Eternal Standard Edition + Rip and Tear Pack
DOOM Eternal Deluxe Edition + Rip and Tear Pack
Doom 64
DreamWorks Spirit Lucky's Big Adventure
El Hijo
Elder Scrolls Online Standard Edition
Elder Scrolls Online Greymoor Edition
Elder Scrolls Online Greymoor Collector's Edition
The Elder Scrolls Online: Blackwood
Embr
Enter the Gungeon
Epistory – Typing Chronicles
Everspace
Family Feud
Far Cry 5
Far Cry: New Dawn
Farming Simulator 19
Farming Simulator 19 Platinum Edition
FIFA 21
FIFA 22
Figment
Final Fantasy XV
Get Packed
GRID
GRID Ultimate Edition
GRIME
Gods Will Fall
Gunsport
GYLT
Hello Neighbor
Hello Engineer
Hellpoint
Hitman – Game of the Year Edition
Hitman 2
Hitman 3
Hotline Miami
Hotline Miami 2
Human Fall Flat
Humankind
Immortals: Fenyx Rising
It Came From Space & Ate Our Brains
Jotun: Valhalla Edition
Just Dance 2020
Just Dance 2021
Just Shapes & Beat
Killer Queen Black
Kine
Lara Croft and the Guardian of Light
Little Big Workshop
Little Nightmares
Little Nightmares Secrets of The Maw Expansion Pass
Lost Words: Beyond the Page
Madden NFL 2021
Madden NFL 2022
Mafia
Mafia 2 Remastered
Mafia 3: Definitive Edition
Marvel's Avengers
Marvel's Avengers Deluxe Edition
Metro 2033 Redux
Metro Exodus
Metro Exodus Gold Edition
Metro: Last Light Redux
Moonlighter
Monster Boy and the Cursed Kingdom
Monster Energy Supercross – The Official Videogame 3
Monster Jam Steel Titans
Mortal Kombat 11
Mortal Kombat 11 Premium Edition
Mortal Kombat 11 Aftermath Edition
Mortal Kombat 11 Ultimate Edition
MotoGP 20
NBA 2K20
NBA 2K20 Digital Deluxe
NBA 2K20 Legend Edition
NBA 2K21
NBA 2K21 – Mamba Forever Edition Bundle
One Hand Clapping
Octopath Traveler
Orcs Must Die 3
Outcasters
Outward
Pac-Mac Mega Tunnel Battle
Phogs!
PixelJunk Raiders
Panzer Dragoon Remake
Power Rangers: Battle for the Grid
Rage 2
Rage 2: Deluxe Edition
PUBG: Pioneer Edition
Red Dead Redemption 2
Red Dead Redemption 2 Special Edition
Red Dead Redemption 2 Ultimate Edition
Reigns
Relicta
République
Resident Evil VII Biohazard Special Edition
Resident Evil Village
Rise of the Tomb Raider
Risk of Rain 2
Rock of Ages 3: Make and Break
Saints Row: The Third Remastered
Samurai Shodown
Scott Pilgrim vs. the World: The Game – Complete Edition
Sekiro: Shadows Die Twice
Secret Neighbor
Serious Sam Collection
Serious Sam 4
Shadow of the Tomb Raider
Spitlings
SpongeBob SquarePants: Battle for Bikini Bottom – Rehydrated
Stacks On Stacks (On Stacks)
Star Wars: Jedi Fallen Order
Steamworld Dig
SteamWorld Dig 2
Steamworld Heist
SteamWorld Quest: Hand of Gilgamesh (March 1, 2020)
Submerged: Hidden Depths
Sundered: Eldritch Edition
Super Bomberman R Online
Superhot
Superhot: Mind Control Delete
Street Power Football
Terraria
The Addams Family: Mansion Mayhem
Thumper
Tom Clancy's Rainbow Six Siege
Tom Clancy's The Division 2
Tom Clancy's The Division 2: Warlords of New York Edition
Tom Clancy's The Division 2: Warlords of New Ultimate Edition
Tom Clancy's Ghost Recon Breakpoint
Tom Clancy's Ghost Recon Breakpoint – Gold Edition
Tom Clancy's Ghost Recon Breakpoint – Ultimate Edition
Tom Clancy's Ghost Recon Wildlands
Tomb Raider: Definitive Edition
Trials Rising
Trials Rising – Digital Gold Edition
UNO
Unto The End
Valkyria Chronicles 4: Complete Edition
Watch Dogs
Watch Dogs 2
Watch Dogs: Legion
Wave Break
Welcome to Elk
West of Loathing
Wolfenstein: Youngblood
WWE Battlegrounds
Ys IX: Monstrum Nox
Young Souls
A fecha de enero de 2022, el número de juegos disponibles en Stadia es más numeroso que nunca, y el catálogo de títulos disponibles, entre ellos algunos de los más populares del momento. Esta lista permanece actualizada semanalmente, para que puedas consultar siempre los últimos juegos de Stadia.
Los juegos de Stadia que están por llegar
Google vuelve a regalar mandos de Stadia y Chromecast Ultra por reservar Resident Evil Village
Chorus
Cris Tales
Darkside Detective Season 1
Darkside Detective Season 2
Death Carnival
Far Cry 6
For Honor
Figment: Creed Valley
Kaze and the Wild Masks
Life Is Strange: True Colors
Life Is Strange: Remastered Edition
Nanotale – Typing Chronicles
Outriders
PGA Tour 2K21
Phoenix Point
Riders Republic
TRANSFORMERS: BATTLEGROUNDS
The Legend of Heroes
Windbound
Windjammers 2
Los vistos hasta ahora son los títulos a los que ya se puede jugar en Stadia. Pero no son los únicos que estarán disponibles en la plataforma.
Tanto Google como algunas compañías desarrolladoras de videojuegos ya han anunciado sus planes para la plataforma. Los de la lista anterior son los juegos confirmados para Stadia en el futuro.
Estos son todos los periféricos compatibles con Google Stadia
Vale la pena mencionar que la lista de juegos de Stadia va creciendo mes a mes. Cada inicio de mes, Google anuncia los nuevos juegos que llegan a la plataforma.
Los juegos gratis disponibles con Stadia Pro enero de 2022
PLAYERUNKNOWN'S BATTLEGROUNDS
Crayta
Hitman
Republique
Everspace
Cthulhu Saves Christmas
Figment
Journey to the Savage Planet: Employee of the Month Edition
Little Nightmares II
PixelJunk Raiders
AVICII Invector
Ys VIII: Lacrimosa of DANA
Trine 4 – The Nightmare Prince
Floor Kids
MotoGP20
The Legend of Heroes: Trails of Cold Steel III
Moonlighter
Street Power Football
Terraria
TRANSFORMERS: BATTLEGROUNDS
The Darkside Detective
Killer Queen Black
Valkyria Chronicles 4
GRIME
It Came From Space & Ate Our Brains
Epistory – Typing Chronicles
Darksiders 2
Blue Fire
Little Big Workshop
Wave Break
ARK: Survival Evolved
Legend of Keepers: Career of a Dungeon Manager
PGA TOUR 2K21
Hello Engineer – Early Access
Cake Bash
Control Ultimate Edition
DreamWorks Spirit Lucky's Big Adventure
Mafia III: Definitive Edition
Saints Row IV
Hundred Days – Winemaking Simulator
DIRT 5
Kemono Heroes
Wreckfest
Destroy All Humans
Falconeer Warrior Edition
Foreclosed
Farming Simulator 22
Una de las ventajas de contar con una suscripción activa a Stadia Pro, es la posibilidad de acceder a nuevos juegos de manera totalmente gratuita cada mes. La lista actual corresponde a los juegos gratis de Stadia Pro en enero de 2022.
Cada nuevo período, Google anuncia nuevos juegos disponibles con Stadia Pro, y en algunos casos elimina algunos de los disponibles anteriormente. Por ello, si no quieres perderte los últimos títulos disponibles de manera totalmente gratuita, te recomendamos consultar esta lista de manera frecuente.Recuerda que, si tienes una suscripción, puedes solicitar los juegos de Stadia Pro gratis a través de la tienda de Stadia mediante tu dispositivo Android, iOS o a través del navegador.
Temas relacionados: Google, Google Stadia, Juegos
Compartir
¡Suscríbete a Disney+ por solo 8,99€!
¡3 meses de Amazon Audible GRATIS! Accede a más de 90.000 audiolibros y podcasts originales